Biblical Citizenship (Jersey Shore Campus)
Every Sunday, from 09/10/2023 to 10/29/2023, 6:00 PM - 8:00 PM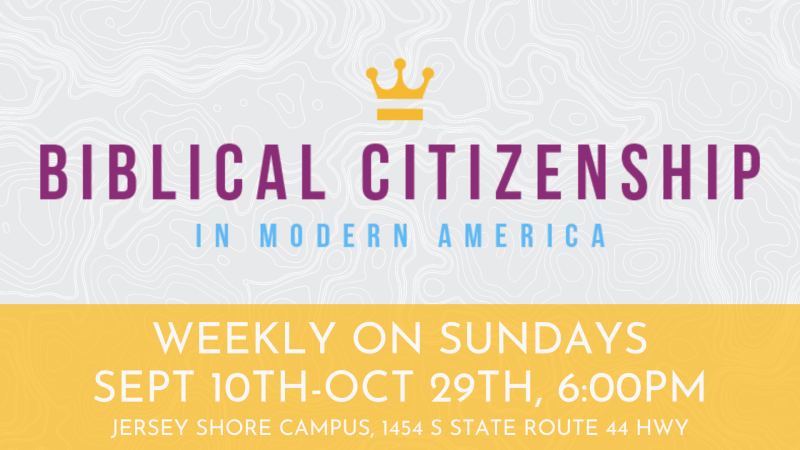 In this time of crisis, where we see our freedoms under attack like never before, we are calling on every Biblical Christian in America to see the inextricable link between Biblical citizenship and societal citizenship and join us in defending liberty!

Throughout our history, American pastors and churches have played a vital role in the establishment and preservation of religious and civil liberty. Being "salt & light" requires knowledge of the culture we are attempting to preserve and influence as we fulfill the Great Commission and "make disciples of all nations." Biblical Citizenship requires a knowledge of Biblical principles and how to apply them to the world around us.

This 8-week course is specifically designed for the church to deliver a class that is easy to use, captivating and impactful! We can be the catalyst for restoring Biblical values in our City, State, and Nation!

Alongside captivating segments with Kirk Cameron (Monumental), America's Historian David Barton, and a host of other contributors including: Mat Staver, George Barna, Rabbi Daniel Lapin, Rob McCoy, Jack Hibbs, Jeremy Boreing, and others, the centerpiece of this course includes incredible footage of Rick Green teaching the Biblical foundations of America directly from Independence Hall. We will work and learn together to become Biblical Citizens in Modern America!

There is a workbook fee of $20.

Check out this 3-minute video on the class!